September 25, 2018

The Bauer Company is pleased to announce our partnership with IQ Power Tools to bring you the latest in OSHA Compliant Saws. We are your source for the new iQMS362 dust control saws. Are you still dry cutting with that cloud of dust in the air, or cutting wet and creating a difficult to remove concrete slurry that stains and looks unsightly on your installs? Not any more…
The iQMS362 saw features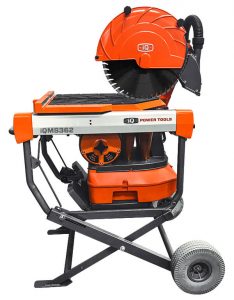 Speed, accuracy, and the ability to cut a wide range of masonry materials.
Cut brick, pavers, stone and veneer with unmatched precision.
16.5" blade allows for a 5.5" depth and a full 24" length of cut.
Cuts up to 40% faster than any other masonry saw in its class
Easy to move and transport, ideal for any location, readily available power.
High-flotation tires allow one person to move over rough jobsite terrain.
Integrated stand with a gas-shock powered lifting/lowering mechanism.
Operates on standard 120v and 20 amps.
Workers' health, safety and compliance with OSHA regulations.
Integrated dust collection captures up to 99.5% of hazardous silica dust.
Meets the 2017 OSHA silica standard.
Cut dry while protecting the health and safety of your workforce.
Did you know that the 2017 OSHA regulation prohibits dry cutting without a way to contain the dangerous silica dust, or that just one offense can cost you over $12,000 in fines. You can't afford not to have one of these saws on your next job.
Contact The Bauer Company today to purchase yours and be OSHA compliant. $2750.00 as shown with stand and blade!
Visit the link below for more info and to see the saw in action!
https://iqpowertools.com/professional-power-tools/iqms362-dustless-masonry-saw/

---